Bio
Born in Hamilton Scotland in 1957, Tim Pomeroy attended Gray's School of Art from 1976-81. He spent a short time secondary school teaching, and returned to Gray's to lecture there for six months before establishing himself as a full-time artist in 1983. Initially he exhibited artworks at the Edinburgh Festival 1981-1991. Since 1996 he has gained representation in several London, Edinburgh and Glasgow Galleries. His career has included many one-off projects principally as a sculptor but has also embraced book illustration, theatre-design and mural painting.
There have been several solo London exhibitions of his sculptural and graphic work from 1999 to the present day and his sculptures feature in several public collections. He showed with Agnews Gallery from 2007 to 2011 including two very successful solo shows in 2009 and 2011. He participated in The Fine Art Society's 2012 exhibition Carving in Britain. Since then Tim has regularly featured as one of their contemporary sculptors including many solo exhibitions: at the Edinburgh branch in Dundas Street (2015, 2018, 2021 ) in New Bond Street (2014) and (2017).
His most recent works are based on organic subject matter (Butterfly Eggs Pine Cones, sea shells) but they also reveal a real interest in fossil forms and the usefulness and beauty of man-made objects both from Neolithic and Bronze Age archaeology (Whorl, Pictish Ball) and from contemporary life (String, Screwhead).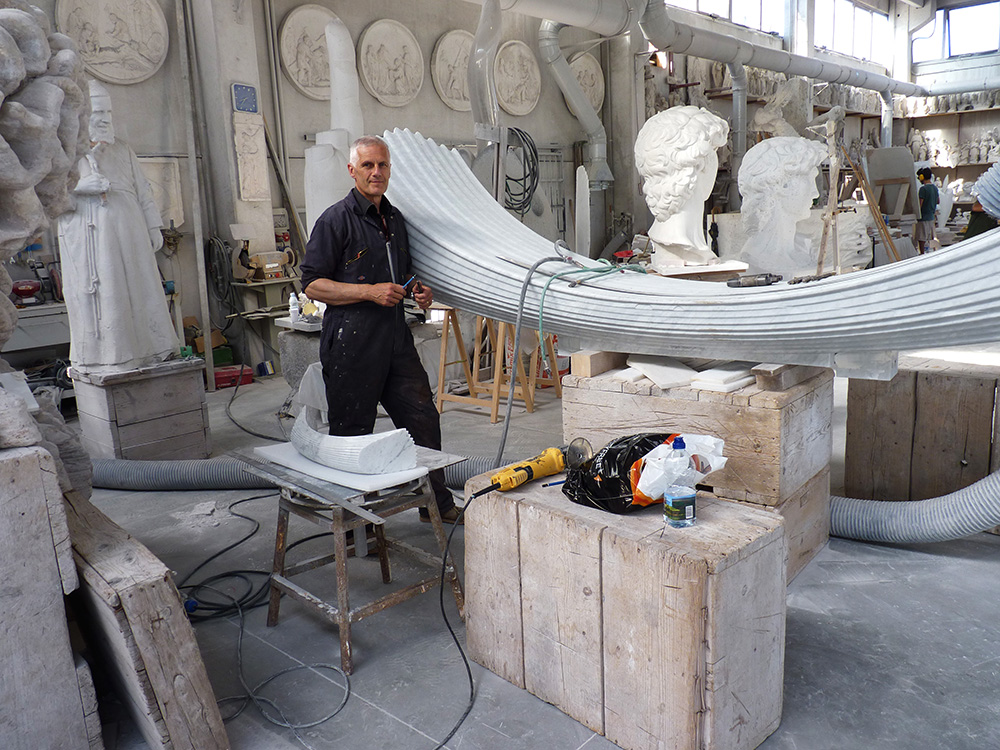 He embraces stone as his principal medium for its enduring and associative qualities. Traditionally, hewn-stone has been associated with the sacred or the otherworldly. Cists, shrines, sarcophagi, altars, the Stone of Destiny, gravestones, obelisks, indeed Greek and Roman statuary are all imbued with a sense of the metaphysical. Hewn-stone can become a conduit for identifying and communing with the numinous. Tim Pomeroy's sculptures offer something of this essence.
In 2020 he had a very successful solo show with his new London gallery Beaux Arts London.  Currently December 2021 he is having his fourth solo exhibition with The Fine Arts Society in Edinburgh.  A book of his life and work to date was published on the 18th November 2021 and is available via the Fie Art Society or directly from this website.
He continues to accept and manage major private commissions.
Works in public collections include:
Gray's School of Art
Educational Institute for Scotland
Leicestershire Education Authority
Clydesdale District Council
Glasgow City Council
Strathclyde University
Esme Fairbairn Foundation, London
North Ayrshire Council
National Trust for Scotland
The Beatson, Gartnavel Hospital
Duke of Devonshire (Chatsworth Ho.)
The Archdiocese of Glasgow
The Dowager Countess of Cawdor

Contact
tim@timpomeroy.com
Galleries Representing
Beaux Arts London
40 Kew Green Richmond, TW9 3AZ
020 7493 1155
beauxartslondon.uk
The Fine Art Society
6 Dundas St,
Edinburgh EH3 6HZ
0131 557 4050
fasedinburgh.com
Colophon
Design: A Platform
[/column] [/row]